⚖️
By: Null of Undefined
Feb 12th 2022
Tags:
early accsex,
action,
vn,
pc,
itch.io,
fantasy,
free use,
x-ray,
rpg,
action,
himbofication,
2d,
public
---
Table of Contents
---
---
Early Accsex: Parasite Black
CW: Gore
Overview
Parasite Black is a fantasy action visual novel currently in development by Damned Studios. It's development is being tracked on both itch.io and Patreon. There is currently a Prologue and Act I available. The Prologue is a pretty standard VN, but Act I gets a little more ambitious as an RPG/point-and-click-adventure with a semi-open world, a day/night cycle, and quests to keep track of. Unfortunately at the time of writing this article, it's still very much a work in progress, but it's got some really cool ideas in here.
You are a young man in a fantasy world of monsters and magic. Unfortunately despite your good grades, your decided fate is to join the Scouts, expendable grunts for the war against the Demorai, monsters that have forced humans into walled cities. On your first expedition, while your comrades are being slaughtered, you and your childhood friend get saved by mysterious parasites, giving you amazing power and good looks, but at what cost? Now the MC and Markus must kill, or breed to keep their parasites at bay.
By now you likely know the drill with Early Accsex articles. This isn't really going to be a review because it feels wrong to review a game that's incomplete. While a game is in development, it ends up in an article like this. The second it's at v1.0.0 and for sale out in the wild? All bets are off. Parasite Black may have a solid 3.5 hours of content, enough to be considered a completed game in some lewd-game circles, it hints at so much more coming down the track. Main quests, side quests, equipment optimizing, and plenty of sex scenes.
On the other hand, when I see indie projects get this ambitious there's always a small feeling in the back of my mind, worried that they bit off more than they can chew, but sincerely hoping not. It can be very easy to get over ambitious in the planning stages of a game. And when new ideas come along during development, or old ideas or shown to not be effective, it can get really difficult to actually get a game across the finish line into the a state that could be called "complete". That said I believe Parasite Black can achieve what they set out to do... Just as long as they don't add a crafting mechanic. Which is the downfall of every game (in my opinion).
---
Pros & Cons
Pros:
Animated sex scenes. To be honest I was expecting a series of still images
---
Himbofication is the little brother to Bimbofication, but every bit as important
---
Some pretty sexy character models, even if they all pretty much have the same body
---
Surprisingly detailed gore images (which can be turned off at the beginning of the game if you don't wanna see them)
---
Cons:
A lack of dialogue controls. You can only advance, and you can't hide the window, even in sex scenes where it's often covering up the good stuff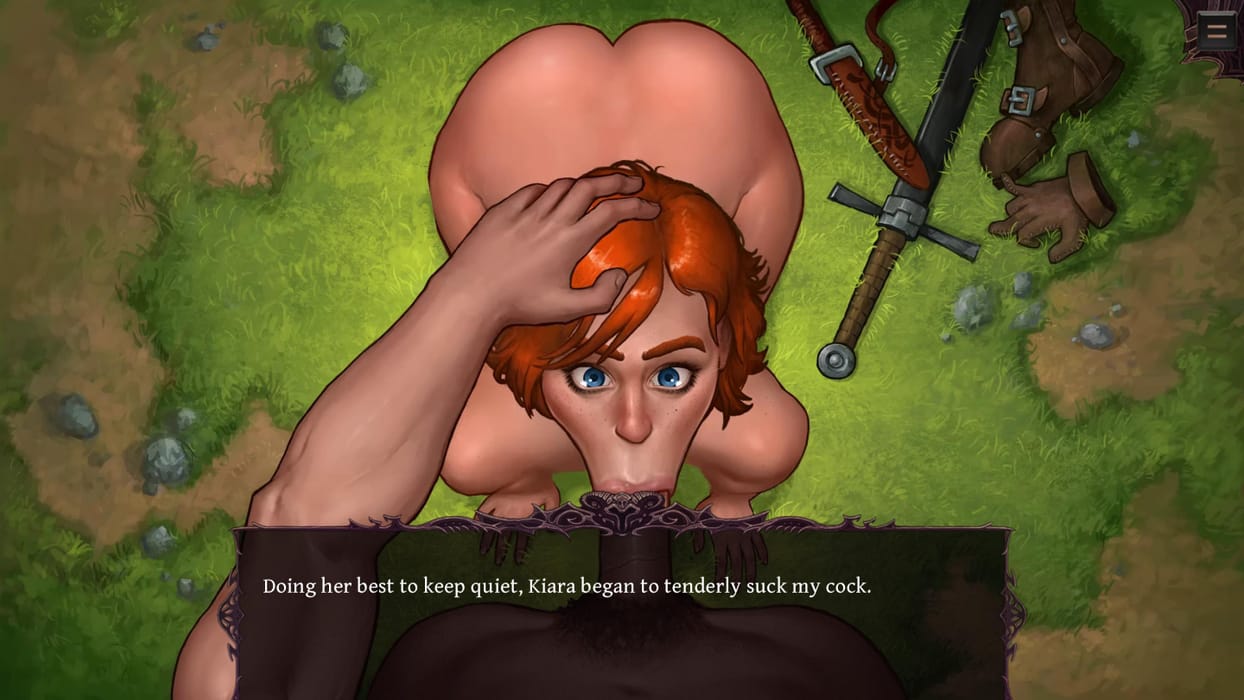 ---
The art is wildly inconsistent. Not just the in-game models but the renders and animations as well. Damned Studios has announced that they're working on making the art a little more consistent but as of v0.129 it can still be a little jarring.
---
The combat is really clunky, and while I understand the desire to have a combat system in a game based so much around fighting, I feel like I could go without it for now
---
Parting thoughts
I was amazed at how invested in the story and the characters I became. Even when I initially laughed at how the Parasites reminded me of Venom from Spider-Man (especially when they're referred to in-game as symbiotes). It worked for me. While I probably won't play this game again until it's complete, or development on it has stopped, you better believe it'll be a day 1 buy for me. I think what's really going to help take it across the finish line is focusing more on the depth of the gameplay, rather than the breadth. I always prefer a game do a few things well than do everything less-well. But I trust Damned Studios' judgement.
If you're working on a game and would like horny.moe to give it a once over, reach out to us using the contact us link in the page footer, or tweet @hornydotmoe