⚖️
Bullet Girls Phantasia
Skip Straight to the Horny Parts
---
Synopsis
A Fantasy / SciFi Isekai with a LOT of lesbians
Bullet Girls Phantasia is a 3rd person shoot-em-up (shmup) developed by SHADE inc. and published by D3 PUBLISHER. It's the 3rd game in the Bullet Girls series. It was released for the Vita and PS4 in August 2018 and came to Steam in January 2020. Despite being a port of an older game, the Steam version comes in at a full 60 dollars if you want all of the DLC.
You take control of the Misakimori Academy Ranger Club. A group of young military enthusiasts. When a portal to another world is opened, you're isekai'd into a magic battle against orcs and dragons. You fight huge hoards of enemies, and gather information by "intensive drilling". Team up with some fantasy-based allies and save the world!
I was really looking forward to playing this game, because I really love Omega Labyrinth Life, and this was published by the same company. Some of the themes are even similar, in that it revolves around a red haired new student in an all girls school, and everyone has massive tits, save a few to appeal to the flat-chest enthusiasts. The main difference, aside from the details of the story, is that the core gameplay of Omega Labyrinth Life is a lot of fun, and would even stand on its own without the fan service. Bullet Girls Phantasia is in the complete opposite camp. All of the core gameplay is a huge slog, and the only thing preventing me from giving this game the lowest review of all time, is how good the horny parts are.
About 99% of the gameplay for Bullet Girls is walking around the same 5 or so empty maps. There is virtually no set dressing in any of these, and the amount of backtracking, or straight up replaying the same path is ridiculous. The only things to ever interact with are chests (the treasure kind, not the lady kind), and enemies. The chests give random powerups that the enemies also drop, so it doesn't even feel worth it to go out of your way to pick them up. In addition to how many times you'll be looking at the same map, you should also make peace with amount of times you'll be looking at the same 5 enemies. Each chapter introduces 0 to 1 new enemies to fight, but for the most part they're the same as the rest. They have a spot to shoot that does more damage, they spawn in huge numbers, and you can't advance until you kill them all.
You have 3 difficulties to choose from for every level, although you can't play the hardest difficulty until you clear that mission on normal difficulty. Playing on harder difficulties results in better item drops, but this game increases the challenge using the "hp sponge" philosophy. Which is the type I hate the most. Increasing the difficulty functionally increases the health of the enemies, and that's about it. Meaning if you don't make any big mistakes, the mission isn't actually any harder, it just takes longer to complete. And considering you're doing the same thing the whole time, it wears out its welcome F A S T. I didn't include many screenshots of the fighting because... it all looks pretty much the same. Once in a while there's a boss in the form of either a new party member, or a dragon. The party members are pretty easy to shut down fast, but the dragons take a certain amount of damage, then fly around invincible while you kill a bunch of enemies it spawned, and then lands to continue the cycle.
The other main mechanic in this game, though only happening 6-7 times in the main story, as opposed to 36 times for fighting missions, is Intensive Drilling. This is a mechanic I can get behind. Intensive Drilling is bdsm-style torture, in which you use various items to inflict pleasure and pain. You move the items around a girl (or girls) and trigger pleasure/paint points. You get the best score by maxing out both the "good" and "bad" bars, resulting in some mild ahegao. There are two DLC items you can use in these sequences to adjust the girl's breast size. Massive Melons for big boobs, and Tiny Tatas for small boobs. In my opinion these are the only two essential pieces of DLC for this game.
---
Horny Parts
Stripping

I've said it before and I'll say it again: Clothing damage should be in every game ever made. Even without a nude mod all clothing can be damaged and removed, however without a nude mod all the naughty bits will be covered up by smoke or light once the underwear is destroyed.
Outfits

As the game progresses you'll unlock several outfits that any of the playable girls can wear. After clearing the story you even unlock the Virgin Killer sweater, an internet fav.
Ahegao

After very successful intensive drilling or reverse drilling session, you get everyone's favorite meme fetish, ahegao!
Nude Mod

Nude mods are an absolute staple for horny games. While Nexus Mods will block any lewd mods for any game featuring high school characters (even Trials of Mana or Atelier Ryza), plenty of other websites are willing to pick up the slack. I got this one for the wonderful folks over at LoversLab
Reverse Drilling

This may be the first bdsm based game mechanic I've ever seen in which it's from the POV of the sub. Basically you pick what item gets used on you, and then you mash the B button at set intervals to increase your score. It's not as sexy as the normal Intensive Drilling but the novelty is great. This is used a few times in the game to "Intensive Drill" characters that don't actually have in-game models.
---
Horniest Part
H O T  E G G ッ逸け ヷ どヿ

【H O T  E G G】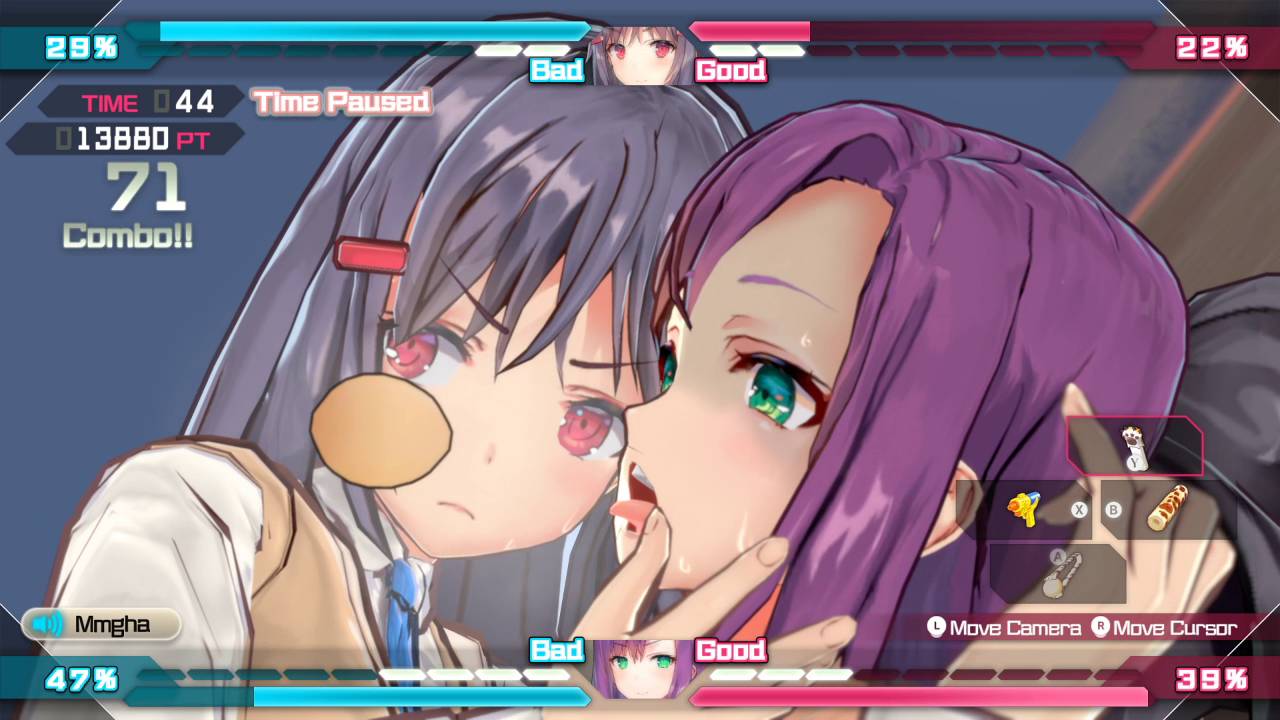 ---
Actual Horniest Part
Intensive Drilling

Look, we all love the 廾 回 卞  ヨ 呂 呂 but the bottom line is that it wouldn't even be possible without Intensive Drilling. This is the core redeeming quality of this game. It still gets a little boring, as you can't really even pay attention to the scene while still getting a high score, but it's still just... just great. In fact the only thing I really don't like about Intensive Drilling is how you can't chose what outfit the girl involved is wearing. I'm not sure why since it seems to use in game models, but my guess is to prevent clipping that's likely less noticeable in standard gameplay.
---
Rating
Neutral
I'd like to state that this is a LOW Neutral. All of the gameplay actually sucks shit and it's only being elevated to Neutral because of how good the horny content is. A game's rating comes down to the balance between horniness and fun, and there are times when one category is so powerful, that it lifts the score despite the massive shortcomings of the other. I won't likely be playing the other games in this series, and I definitely won't be playing this one again. Despite the fact that I've lost some respect for D3 PUBLISHER, I will still very likely play whatever horny game they release next.
Thank you so much for reading. Please consider following us on Twitter or subscribing to Patreon