⚖️
Sonicomi
Skip Straight to the Horny Parts
---
Synopsis
Sonico is cute! CUTE!
Somicomi is a Visual Novel and Camera Shooter game developed by Nitroplus for PC. You may not know her name, but Sonico's likeness has been popular on the internet since her debut in 2006. She started out as a mascot for NitroPlus' music festival, but has gone on to spawn manga, anime, and several games. Sonicomi came out in 2011 in Japan, and got a world wide release in 2016, with an English dub for Sonico.
In Sonicomi, you are an up and coming photographer. After Sonico gets thrown on top of you at a concert, you wind up becoming her personal cameraman. Her career as a gravure model is in its infancy, so you both have to work hard together to make it big.
There are two primary gameplay elements in Sonicomi. The first is visual novel style. Lots of reading and making dialogue choices. Sonico is the only character with an animated model, and a voice, so much of the game is reading to music. That's not going to be surprising to many VN fans though. In these dialogue segments, there are also times where you chose where/if to touch Sonico, or even where to look. This has some minor effects on the dialogue, but didn't seem to fork the story one way or the other.
In my first playthrough I tried to be as nice as possible, and in the second I was as big of a jerk as possible. Neither seemed to change the story much at all. In fact being rude and making comments about her boobs is more rewarding than not.
The second gameplay element is Photo Missions. This makes up the bulk of the non VN gameplay, and has two phases. The first phase is picking out Sonico's outfit for the shoot. Clients will have specific requests that will give you point bonuses for completing. Usually it's things like "this isn't meant to be sexy" or "this should be modest and cute". When I played through the first time I overestimated how important this was. On my second playthrough I tried whatever outfit I wanted, and was still able to get SS ratings.
The clothes chosen also have another effect on the game outside of the mission. Clothes affect Sonico's 'position', which is the type of gravure model she is. Moving the dot on this scale is how you unlock the different endings. In the first playthrough it's difficult to move the dot much because the clothes don't vary much. After the first playthrough though, you unlock a clothing store that has more options.
Once her outfit is set, you move on to the photoshoot. This mode is like an FPS, but with a camera instead of a gun. Circles will appear in various locations around Sonico for you to shoot. You have to wait for the correct time, and be sure that you can see Sonico through the circle for the most points. Small animals will also run by, and taking photos of them provides some kind of bonus. (I was never too clear on what the bonus was). Sonico has 2 gauges, Happiness and Tiredness. If she gets too tired you have her take a break. She never seemed to need a break through any of my playthroughs though. When her happiness maximizes you can use the 'Talk' command to get new positions to shoot. When time is up you get graded, and the story continues.
---
Horny Parts
The following is a list of Horny components in this game, in order from least horny to most horny. This list is going to be shorter than usual, because there aren't many facets to this game.
Angie Gravite

Angie is Sonico's gravure rival from America. She is the epitome of tsundere and is very sexy. But she isn't voiced, doesn't have any animation, and as far as I can tell doesn't exist outside her dialogue image.
Sonico

Sonico is cute. She has big boobs (F cup according to the dialogue). She's always down to try her best. It's undeniable that she's sexy, that's why her image is all over the internet. I know for an absolute fact that she was the deciding factor of which headphones one of my friends bought. The only negative thing I have to say about her is that the story plays her as "Born Sexy Yesterday". That is to say, she's naive and child-like, which is fine, but isn't really my thing.
---
Horniest Part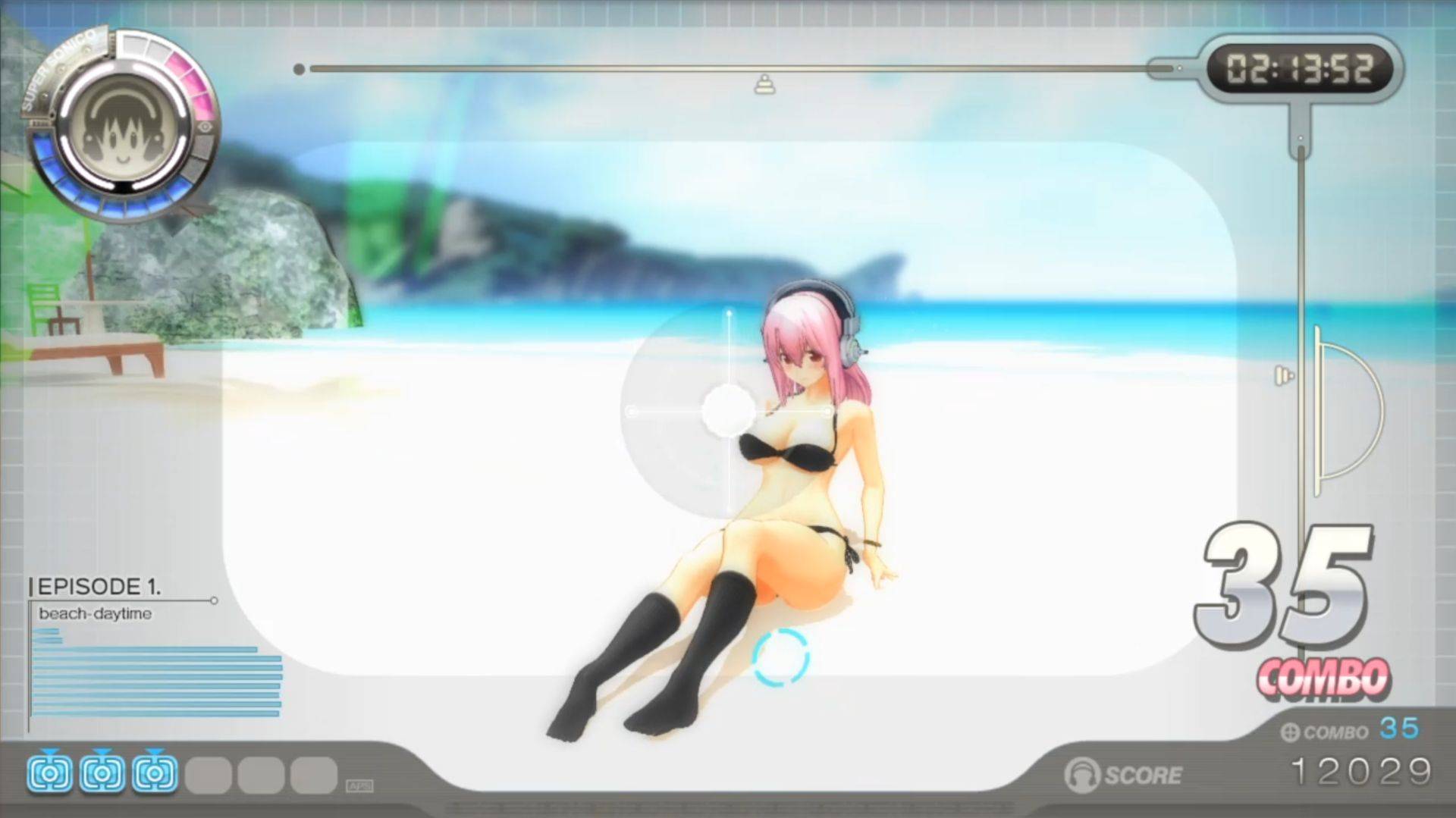 Photo missions are the bread and butter of this game. If it was only a VN I don't know if it would stand on its own feet since the story is shallow. Picking outfits and discovering new poses is fun for a surprising amount of time. My second playthrough it started getting old because there wasn't much new to see, but I still enjoyed it. Lots of clothing for sideboob and upskirts, which seems to be what this game thrives on.
---
Additional things of note
Jessica Nigiri voiced Sonico in the world-wide release of Sonicomi. You may know her from her cosplay, or from voicing Cinder Fall in RWBY.
There is one gay dialogue option that you get in the game, but it plays as a joke.
Some of the endings take hard narrative turns that I really respect. The first ending I got was: After the your contract with Sonico ends, you become a war photographer. You go to the middle east to cover a civil war where you get bombed from a helicopter. Then Sonico appears as nurse healing you because she wants to save the world. I loved how much that ending caught me off guard.
---
Rating
Positive
Sonicomi isn't a perfect game, but for what it is, it delivers a lot. It can get repetitive in subsequent playthroughs, but since the dialogue doesn't change much you can skip most of that. The photography mechanic works well with the story. Some negatives include how characters other than Sonico are inanimate and unvoiced. The story also doesn't seem to branch other than the ending, which is disappointing. This is also the least-horny game I've reviewed so far. The lewdest it gets is upskirts and bikinis. Not too surprising considering Sonico is a corporate mascot.