⚖️
Sword of Succubus
Skip Straight to the Horny Parts
---
Synopsis
Animated. Pixel. Tiddy
Sword of Succubus is a 2d dungeoncrawler Developed by Libra Heart in 2018, and published on Steam by Critical Bliss on October 30th 2020. It came bundled with it's predecessor, Tower of Succubus. Both games were available for download online prior to their 2020 release, but coming to Steam opened it to a much wider audience. I played Sword first because in the launcher it was listed first, but no knowledge of the prior game is needed to appreciate it.
You are a succubus! After you sex the hero of the world to death, you must pick up his sword and complete his holy quest to kill The Overlord! But first you must collect 3 triangle gems (why does this sound familiar?). Explore a detailed world map and delve through dungeons to gain the power you need to win!
I've played a lot of dungeoncrawlers in my time and I can say with no hyperbole that this is one of the best. The pixelart is amazing, the music is perfect, and the 2D animation is top notch. Typically in a game like this I wouldn't expect animation of any kind, but Sword of Succubus has animations that your avatar on the right of the screen makes based on different external factors like attacks. Plenty of animated sex scenes (and a few non-animated ones, likely for budgetary reasons). And the art looks GOOD. Even the color palette looks like it would fit perfectly in a SNES game, unlike many retro-styled indie games that mess up things like pixel density and palette.
The world map is very small, abut incredibly dense. This results in a lot of backtracking which I usually hate, but use of cleverly placed warp points take out a lot of the pain of walking back and forth. And that's really the whole game. It sounds small, and it is. This game is short, challenging, and incredibly rewarding.
---
Horny Parts
Stripping

Yup. Sword of Succubus passes the horny.moe challenge, and has clothing damage. There's no partially damaged state (how could there be with how little the main character is wearing?) But when you take damage you lose your clothes. When this happens you won't be able to interact with most NPCs, as they'll be too distracted to concentrate.
Sex Work

Once you have enough health, you can have sex in town with various NPCs for money. The cum you collect from these interactions is additionally sold to a witch in a cave so she can build golems.
Ravishment

Unlike Monster Girl Breeder this is being committed by enemies, instead of the main character that's generally supposed to be a good guy.
Combat Sex

If your armor is broken there's a chance for enemies to force themselves on you. You have to mash buttons to get rid of them.
Shota

To power up you have to get gems from a little kid NPC by doing various... acts with him. If this makes you feel uncomfortable don't worry, he's actually a full grown dude who had a curse put on him or something.
Lactation

One of your key abilities is healing others by letting them drink your succubus milk. This is built up by playing with your breasts at home, and then used in various puzzles around the world.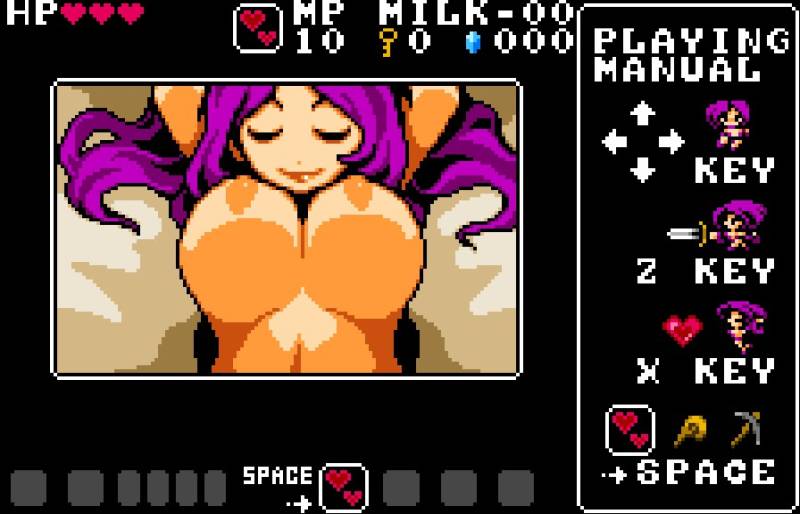 ---
Horniest Part
Sex Scenes

There are tons of sex scenes you can find all over the world, and you can revisit them anytime from the gallery. I'd include more screenshots but honestly most of the things above are contained within sex scenes so there should be enough here to get the idea accross.
---
Rating
Positive
This is one of the best horny games I've played in a good long while. It was incredibly refreshing. I loved the animation and character design, and I love how there's this layer of absolute smut all over everything in this game. Nothing is off the table, right from the get-go.
Thank you so much for reading. Please consider following us on Twitter or subscribing to our Patreon