⚖️
Rabbit Burn
Skip Straight to the Horny Parts
---
Synopsis
A Unique Idea that Failed to Execute
Rabbit Burn is a billiards-type arena game developed by Bio Sapiens and published by Eroge Japan. It was released on May 17th 2019. When bought on steam there is a mosaic effect covering up genitals, but if you search for "rabbit burn no mosaic mod" you can find a link that will remove this effect.
You are a man with the head of a White Rabbit. You go to battle against other rabbit men to get all the bunny-girls on the field to join your entourage. How do you get them to join? By having sex with them of course!
The gameplay is incredibly simple. You have a ball that you shoot around the stage. After you shoot, your character will follow it's path. You fight any rabbit men you find, and seduce any bunny girls along the way. The goal is to get all the bunny girls on your side before you run out of turns, or die 3 times.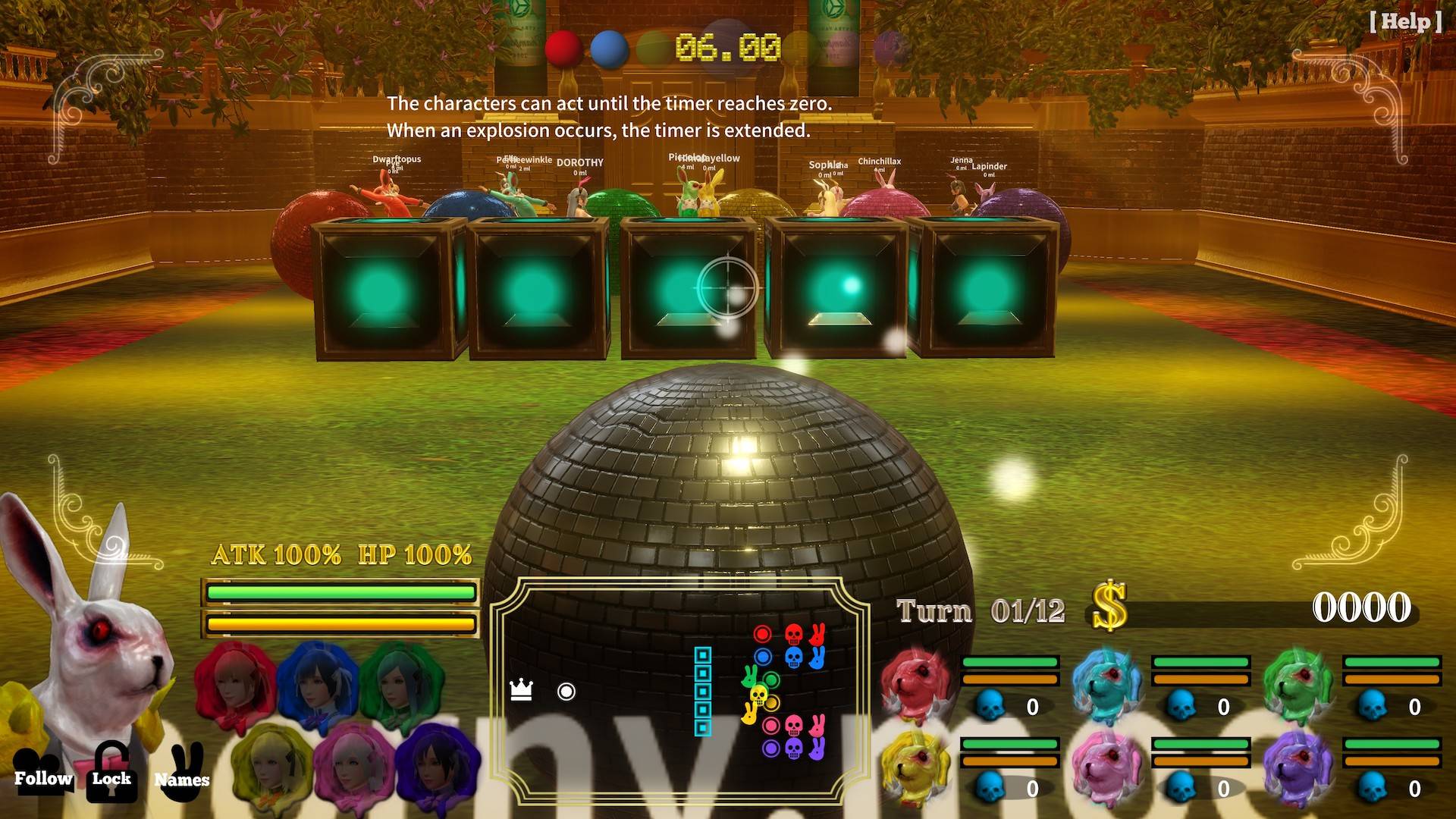 Defeating rabbit men will make their clothes explode. If bunny girls are nearby enough explosions, their clothes will fly off too. There are several different sex animations that get chosen at random.
There are 20 levels, but all the same, save for the layout of the balls, characters, and boxes. Each level you defeat will unlock more for you in Gallery Mode, which is the main reason people seem to play.
Unfortunately this game gets tedious very fast. The gameplay isn't particularly fun. Some of the sex animations are decent it's not enough to elevate the rest of the game. I started to get burned out from the gameplay after 2 or 3 levels when I realized, "yup, this is the whole game I guess". Additionally this game suffers from the out of control bloom filter that a lot of Unity games have. Everything is shiny and washed out, and it makes it pretty difficult to see. There are also several graphical bugs that happened throughout the game. In gallery mode one of the bunny girls got caught in a perpetual animation that I had to exit to stop.
The camera is also very difficult to control which leads to the game being hard to follow, and harder to control. If this was a 2 dollar game I might give it a pass on that sort of thing, but it was 15 dollars.
---
Horny Parts
The following is a list of Horny components in this game, in order from least horny to most horny
Seduction

When you need to recruit a girl to your team, your character will pick an animation and have sex with her. Afterwards the girl will ragdoll, but she looks pretty pleased about it.
Resurrection

When your character dies, if you have a girl on your team she can help bring you back to life by riding you. If you don't have any girls don't worry, you'll come back for the next turn.
Gallery Mode

As you complete the campaign, you unlock more characters and animations for Gallery Mode. This seems to be what most people play this game, but it's pretty limited.
---
Horniest Part
VIP Room

After you beat the game you unlock the VIP room in gallery. This is where you can add multiple characters and have them do any animation. It's basically the same as gallery mode, but with more people involved.
---
Rating
Negative
Rabbit Burn just isn't very fun, and the sex isn't enough to give it even a neutral rating. There are a few things I liked about this game but I absolutely wouldn't play it again, and I can't recommend it.
Additional Things of Note
One of the few things I liked about this game is that after each level, all the other rabbit men clap for you, and all the bunny girls dance. It makes it seem like even though this game is mildly violent, everyone is a willing participant and having a good time.