⚖️
By: Null of Undefined
Mar 5th 2022
Tags:
pc,
steam,
anime,
vn,
scifi,
robot,
maid,
femdom,
stuck,
ahegao,
catgirl,
ravishment
---
Table of Contents
---
---
Robolife-Days With Aino
CW: Rape
Skip Straight to the Horny Parts
---
Synopsis
Chobits? Never heard of her.
Robolife-Days with Aino is a sci-fi visual novel developed by Barance Studio and published by Critical Bliss and Mango Party. It came to steam in June of 2021 with a lot of positive reviews. This is our first community suggested game we've reviewed! Thanks to patron CuddlePunk for the recommendation! If you'd like to suggest a game to be reviewed, subscribe to our Patreon!
Let me get out in front of this. I know that female humanoid robots are called 'Gynoids.' Still, this game calls them androids, and so does the rest of the general population. I've never been able to say the word gynoid without immediately having to explain what that means, so I'm making an official decree. The English language has spoken, and 'android' now means any humanoid robot regardless of gender. Is it potentially problematic that the male version of the term became the default? Probably but that's a whole different discussion.
One day when you're walking through a junkyard, you stumble across a broken and outdated sexy android lady! Since you're an engineering student, you take her home and fix her up. But there's a mystery surrounding this android. Can you uncover the secret of Aino's dark past? Or will you just like, become a v-tuber? Because both are valid options, honestly.
Story / Characters
Robolife's story branches in 3 broad directions and splinters out into a few different endings for each of those directions. What story you get differs based on what jobs you pick for Aino, the android the main character (You) is working on for school. The story paths involve becoming a hacker, becoming a weapons tester, or becoming an idol. On each of these paths, you'll switch jobs once or twice. On top of these 3 primary routes are side stories and events for you to explore. Most of the requirements are based on having specific stats or special equipment. While I expected the main story to be mostly the same regardless of path, there are many differences.
The driving motivator is always to decrypt Aino's mysterious brain partition. Still, her goals and desires and whether or not she's successful differ greatly based on the story path. The path that seems the most canonical is the Programmer path. Yet even on that one path, there's a good and bad ending. You can uncover Aino's secret and profess your love, or Aino can end up as a deactivated room decoration.
I came into this game expecting each path to be maybe 10 minutes of new dialogue and images, but found each playthrough taking approximately an hour, even when skipping every scene I had already seen.
While there are a few male characters in this game, most have no character model or a reused one. So for the characters section, we're gonna focus on the ladies.
Aino is the TITular character of Robolife. She's an android with no memory but seems to have abilities beyond a typical android. She's stoic and kind of rude and oblivious. If your favorite girl from Evangelion was Rei, you'll probably like Aino. They're similar in quite a few ways, actually...
---
Ayesha is an engineer who's had her eye on Aino for quite some time. You'll end up working closely with her if you take the Construction->Debt Collection->Weapon Testing story route. She loves desserts and Aino.
---
Verity is a digital V-Tuber who has aspirations of being an idol. She shows up in a side story but is more intricately wound into the story if you take the Cafe->Bartender->Idol story route. When you team up with her, the gameplay switches to being a lot about completing tasks to achieve popularity goals. She can also be put into Aino's body temporarily to experience certain... carnal delights.
---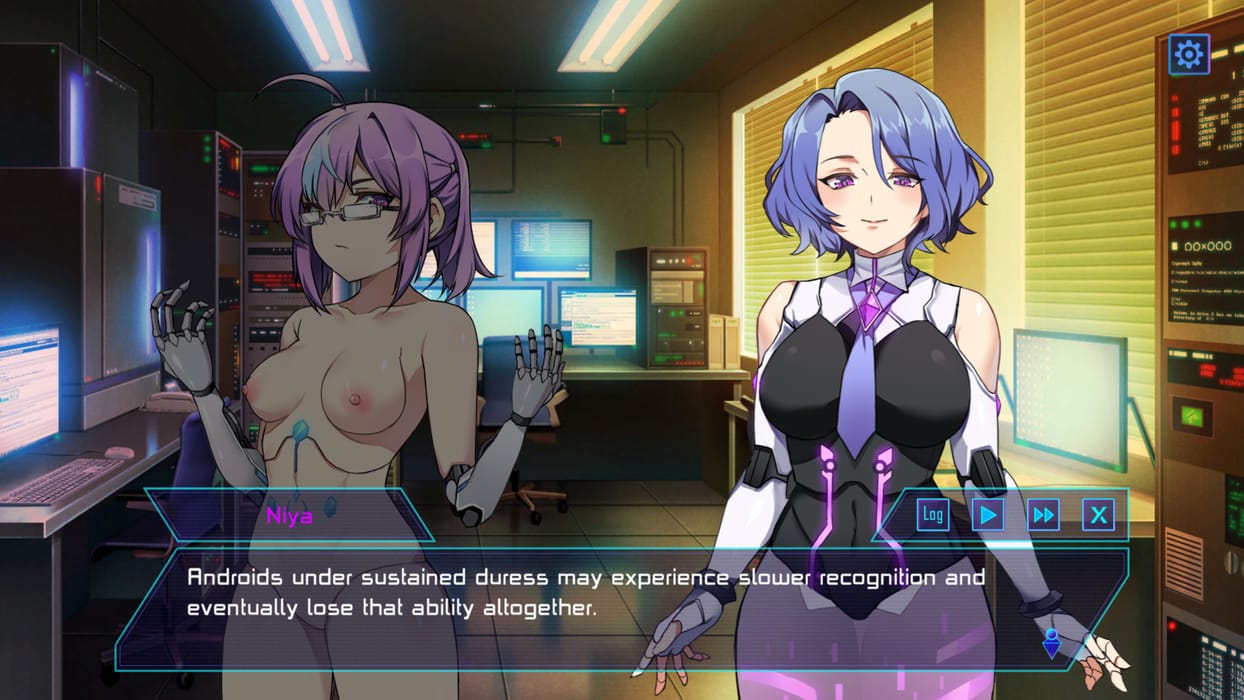 Niya is the android assistant to your teacher, Professor Gustav. She's more serious than most of the other characters, and while you can see her in a couple of sex scenes, there's only one scene that I was able to find in which the MC can have sex with her. You'll see a lot of her in the Data Analyst->Programmer->Hacker route.
---
Gameplay
Robolife has non-linear time-based gameplay. It's tough to pull off from a programming/design standpoint, but even harder to pull off well. I'm happy to report that Robolife does an excellent job managing this. I was annoyed at first because I generally dislike unnecessary ticking clocks in games. I like to take my time while playing and explore as much as possible. This game doesn't allow for that type of gameplay, at least not during your first playthrough. I don't even like Majora's Mask because of the whole three-day cycle thing. Hell, I don't even like how the anime for Pop Team Epic had the second half of the show being primarily the exact same content as the first half. Ultimately, I just don't like when a piece of media asks me to do or see the same thing multiple times.
I got that annoying feeling during my first playthrough. I could tell pretty early that I wasn't going to meet the arbitrary "end of semester" date and that I'd probably have to play through again. And when I missed that deadline and the game just had a piece of text that said "game over" and kicked me back to the start screen, I was pretty annoyed. The save I had was already way too late in the game to affect any real change; that whole run felt like a waste. If I wasn't playing the game for a review, that probably would have been the last time I started it up, but luckily I gave it another shot.
In my second playthrough, I actually got to an ending. I was more efficient about what outfits I researched and which side stories I did. This type of focused gameplay went against my usual routine, but it felt kind of good to get out of that routine. Smaller and more targeted gaming sessions with a specific ending goal in mind were fun once I had a proper grasp of the game and its mechanics. So my advice to you is to just do whatever you want in your first playthrough, figure out what does what, and then once you've worked the game out, restart and shoot for a specific ending. Overall it was a pretty great way to experience the game.
Actual Gameplay
As for the actual gameplay itself, Robolife is primarily a VN but also has a bit of resource management and adventure game spice thrown in. There's a daily cycle in which you need to balance researching new outfits, completing jobs for income, and fulfilling various primary and side stories requirements. Certain people and locations are only available to you on certain days or times.
The timeline for the first playthrough is incredibly tight, and it felt like I never really had enough money. Stories can sometimes only be progressed when you meet a particular stat requirement or have a necessary piece of equipment. Luckily once you complete a story route, you unlock the "Birthday" outfit. Which has most of the essential abilities you need, increases your income, and has excellent base stats. Oh, and it lets Aino just walk around naked, which is pretty cool.
---
Horny Parts
Chibi Scenes

Not exactly sexy but incredibly cute
Catgirl

Who doesn't love some quality catgirl content?
Ravishment

When you first bring Aino home you do stuff to her while she's de-activated. A pretty common element to robot based smut, but makes some people uncomfortable. Additionally later on in the game, Niya assaults the MC.
Stuck

Back in the uncomfy zone for some, the stuck fetish is something that's increased in popularity since the release of a certain washing machine video. Which also led to the ubiquity of the "what are you doing step bro" meme. In this instance, the MC is the one that's stuck first and there's a bit of a femdom element, but the screen is completely black for that part of the scene. The MC then inverts the situation to finish the scene out.
Horniest Part
Sex Scenes

I know, I pretty much already used things that happened in sex scenes as the last few horny parts, but you'll just have to deal with it. There's plenty of scenes with a variety of body types and situations. They also go real hard with the sound effects. My only complaint is that there's no animation, but with the amount of content in this game for only 15 bucks, that's totally fine with me.
---
Rating
Positive
I started off not really appreciating this game but it definitely won me over. It's got cute and sexy characters, a story that branches significantly, and a LOT of replay value. Seriously even after I had everything I needed for a review, I booted it back up to try and get a few achievements that I missed. It's pretty rare that I do something like that, so I'll be looking forward to any sequels that may be coming in the future!
Additional Things of Note
I think this is a Jojo reference:
Thank you so much for reading. Please consider subscribing to our Patreon, or following us on Twitter.