⚖️
Wish
Skip Straight to the Horny Parts
---
Synopsis
Bejeweled... but with boobs???
Wish is a puzzle game / visual novel developed and published by Momentum Games. It was released in May 2020, but has received several updates since release which is available as free DLC. The game comes with the nudity removed out of the box, but can be unlocked via an additional free R18+ DLC. All audio is in Japanese, but it's available in 5 other languages. If the rest of the languages have the same translation issues as the English translation though... they might have a hard time understanding what's happening. I know I did.
You are Soma Dakyon. You're a human prince in a world of monsters. The Empress you serve, Diadora, is a fascist and human supremacist who subjugates all non-humans (knows as 'furries') in the world. On the eve you become a man, you start your war to unite all the races of the kingdom and overthrow Diadora! HELL YEAH BASH THE FASH!
<3
Wish is a match 3 type of puzzle game like Candy Crush. Though really Candy Crush is just a reskin of Bejeweled, which is a reskin of Shakiri, which according to my research may be the first match 3 video game. I have many memories of hanging out at my best friend's house, the two of us waiting to play Diablo, only to have to wait, because his mom had to play Bejeweled for 14 hours straight. I'm not sure she'd like this version. Match 3 is no new genre to h-games. The simplicity of the rules makes it a easy way to shove gameplay in between lewd scenes. All of the story is delivered in a standard Visual Novel style. However like most Unity based VNs I've played, they lack the usual framework you'd expect in a VN made in Renpy. There's no text log, there's no skipping back, or auto read. You either read the text as it appears, or hold ctrl to skip super fast to the action.
The different icons you connect have different effects like dealing magic/physical damage, healing yourself, or filling up your "fever" meter (which is the most useless of them all). You have to defeat the enemy to convince them to join your party by making them lose all of your life before you lose yours, or run out of turns. As you damage them they lose more of their clothes. Win or lose you will get some gold that you can use to increase your health damage, and buy items that help you in the game. This gameplay is okay, but it gets a little boring. There are eight different characters you have to defeat, but you have to beat each one 4 times. This wouldn't be so bad, except that this mode has a lot of bugs. There are items that replace all fo one type of icon with another, but they'll miss some. The audio clips also aren't limited at all, so if you clear a bunch of icons at once, sometimes the audio will clip and be really loud from playing the same sound on top of itself multiple times. Mercifully, once you get the right skills leveled up, you can start to win in 2 or 3 turns.
As the game progresses more and more monster girls join your party, until attack and dethrone god Diadora and unite the world in loving harmony (wouldn't that be nice? We need some more of that tbh). At least that's what I think happens in the story. It's really hard to say because of how bad the translation is. It was serviceable for the first couple of chapters but after that it completely falls apart.
---
Horny Parts
Character Models

All of the character models for the ladies in this game are really good. The artist was clearly a breasts man, and as a man of class myself I am totally on board.
Stripping

As you deal damage, the person you're fighting loses more and more clothes. Their expressions also change
Scenes

Progressing through the game unlocks rendered scenes of the ladies in various compromising positions. Yes that's a smartphone that character has. Yes this game takes place in a world of castles and magic, why do you ask?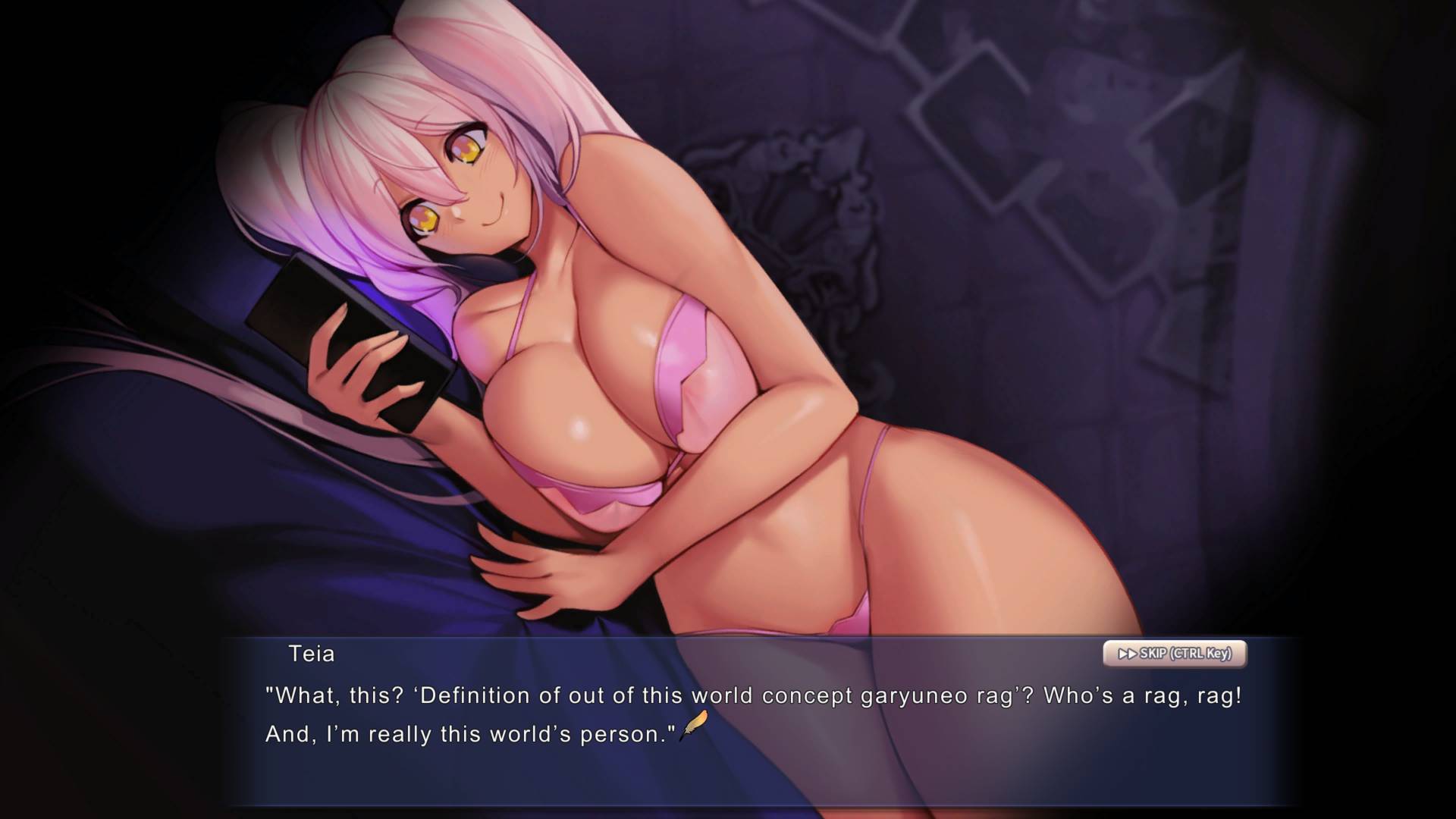 Foreplay

Once you defeat a monster girl 4 times, you unlock their interactive scenes. What's crazy about this is that in my first playthrough, I didn't even know this was in the game. It's kind of hidden. If you go back to this part of the review, you'll see a start button in the bottom right, and a meter of completion in the bottom center. Clicking start is what begins combat, but what I didn't realize is that once that center meter is at 100%, you can click it to enter a foreplay scene. You pick various devices and click around on the character model to increase their pleasure. Here's the best girl, Abigail, goin at it.
---
Horniest Part
Sex Scenes

Naturally. Once you finish foreplay, if you click that progress bar in the menu again you get to have sex with the chosen monster girl. This is the same style of gameplay as the foreplay, only this time Soma is more involved.
---
Rating
Positive
While the gameplay is shallow and buggy, and the story is incomprehensible due to the quality of the translation, the art and girls are great. Add to that the fact that this game is only $2.99 on steam, with all the DLC being free, and you've got yourself a decent game for the money. The developer even announced on September 3rd that they plan on release 4 more characters for this game. If it follows the rest of the DLC I'm willing to bet that it'll be free. The world needs more developers like Momentum Games.
Thank you so much for reading. Please consider following us on Twitter or subscribing to our Patreon