⚖️
Fight Angel Special Edition
Skip Straight to the Horny Parts
---
Synopsis
Street Fighter mixed with Soul Calibur mixed with Honey Select
Fight Angel Special Edition is a 2.5D fighting game on steam developed and published by Red Fox. The base edition doesn't seem to be available anymore but as far as I could tell the main differences are that the Special Edition has more characters, and changed the face style to be less realistic and more anime. The original face style can be reverted with mods.
Create your character and fight in the oppai gauntlet. Battle Angel is a Street Fighter style fighting game. And by Street Fighter Style I actually just mean street fighter. All the inputs (and quite a few animations) will feel familiar to anyone who's played a decent amount of SFIV. Or The King's Game as I like to call it.
I was pleasantly surprised by this game. Was it the best fighter I've ever played? Of course not. Will it be at EVO next year? Unlikely. But considering most indie fighting games are either uplayably mushy, or unplayably technical, Fight Angel does well.
The combat is lifted wholesale from Street Fighter. I mean that quite literally. Check out the videos below for a comparison of Yulia's ultimate from Fight Angel, and Ken's from SFIV.
While that's lazy, and probably illegal, SFIV is one of my favorite fighting games, so this was a positive for me. Likewise, the combat is heavily footsies based and most combos are relatively short. I hate in games cough dragonball cough when an enemy gets a jab in, and then you don't get to push buttons for 20 minutes.
There are 3 fighting modes, Arcade, Story, and Versus. Versus is exactly what you'd expect, two players pick characters and then fight. This game supports both local and online versus, but I wasn't able to ever find an opponent online. It's a shame because I'd love to see the fighters other players have made in-game.
Arcade mode is just a series of versus matches. Your character against every other character in the game. Winning gives you in-game currency in order to unlock new clothes, hairstyles, etc. I was fully prepared for this part of the game to be a microtransaction nightmare, but was pleasantly surprised that there were none.
Story mode is a longish series of fights in which the character you play as, and the character you fight, follows a narrative. The Story is a little hard to follow, but basically you're fighting a bunch of other girls in order to steal their invitation tickets to fight a mysterious magic person.
And that's about it as far as gameplay goes. It's a straightforward fighting game with simple combat, and boobs!
---
Horny Parts
The following is a list of Horny components in this game, in order from least horny to most horny
Idol

When you beat arcade mode with a character, you unlock the ability to put them in an idol video! I don't really know what's up with so many games doing this, but I guess it's sexy? If you put the characters in sexy outfits?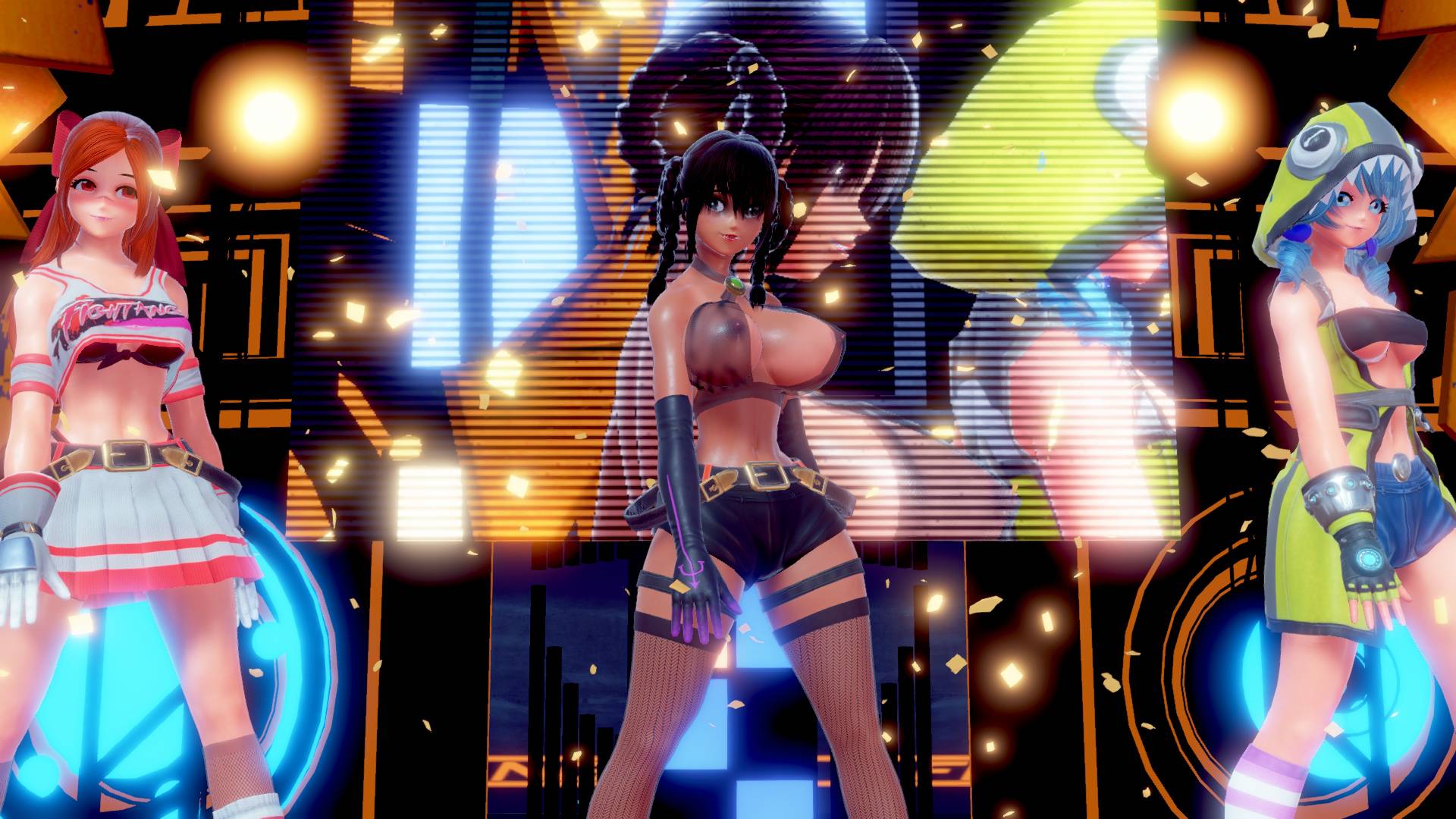 Boobs

The creators of this game love boobs. I mean, really love boobs. Mostly all they talk about on the steam page is about their amazing boob physics engine that changes the bounce rate based on the type of clothes the girls are wearing. I really appreciate unabashed passion for things like that. Passion that responds to a world asking "WHY DID YOU MAKE ALL THESE CHARACTERS HAVE HUGE BOOBS???" they answer, "BECAUSE I LOVE BIG TIDDY". I'm right there with them.

Character Creator

The character creator feels very similar to Honey Select, but definitely more limited. I assume that they had to restrain the body preportions somewhat to make the hitboxes make sense. You can still make a damn sexy character though.
---
Horniest Part
Clothing Break

Have you ever played Soul Calibur (IV and up) and seen the clothing breaking mechanic and thought to yourself, "What is their underwear made of? It's completely invinsible." Then you're not alone. The meter under the health bar is for breaking clothing. Each bar of the meter you take down is another article of clothing torn or destroyed. If enough clothing damage is done the characters will end up fighting naked. Without the uncensorship mod (which can be found in the Steam discussions) you won't get the whole shebang. After the fight is over, you can get a closeup of the now nude (or semi nude) girls.
---
Rating
Positive
I liked this game. The combat wasn't amazing, but it was playable. The character creator was about as robust as it needed to be, and the creators didn't take the lame route of hiding all the good clothing items behind microtransactions.
It's not all good though. There is no way to fight against a computer without playing story or arcade mode. Even on the hardest difficulty settings the game is very easy to beat if you learn one or two small combos. What bothers me the most though, is that while there are several different expressions the fighters will make, they are completely static. Take another look at this photo posted above:
That face doesn't change for her entire winning animation. It's absolutely horrifying.
I still believe the positives outweigh the negatives, and I actually had a very good time playing this game. It was the perfect palate cleanser after the double dip of shit that was BMX XXX and Bonecraft.
Additional things of Note
Are you curious about what it would look like if a custom character made of the minimum value of all sliders fought a character made of the maximum value? No? Well I've got bad news for you then.
Thank you so much for reading. Please consider following us on Twitter or subscribing to Patreon